RESPONDING TO THE COVID-19 PANDEMIC
---
Now, more than ever, Game Ready is committed to staying true to our mission of being the best at getting our patients back to the things that matter.
READ OUR STATEMENT
Game Ready® offers innovative, multi-modality recovery systems that help people finish strong and get back to what matters as quickly as possible after injury or surgery. Thousands of patients, elite athletes, professional teams in every sport, special military forces, leading orthopedic surgeons, sports medicine doctors, physical therapists, and athletic trainers around the world have chosen Game Ready for over 15 years.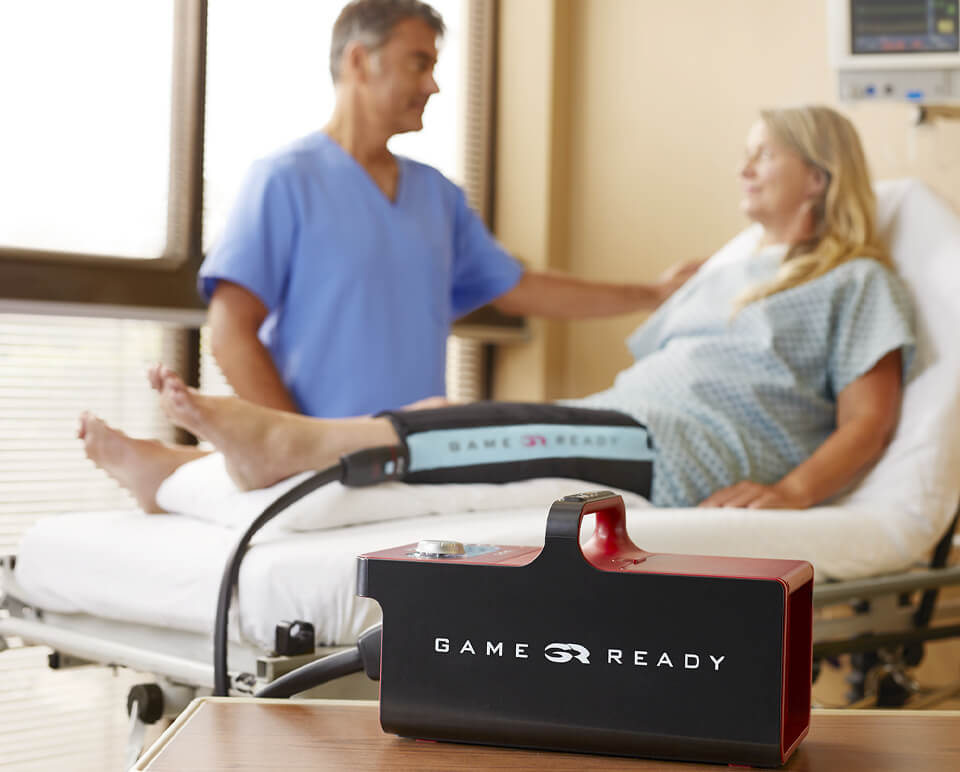 FINISH STRONG WITH PROVEN CLINICAL BENEFITS
---
For acute injury and post-operative recovery, the portable GRPro® 2.1 cold and compression system is clinically proven to help reduce opioid consumption, decrease pain and swelling, and increase satisfaction with the recovery process.1,2,3,4,5
The Med4 Elite® expands professional treatment capability for acute and chronic injury and surgery recovery with integrated iceless cold, controllable heat, rapid contrast, and active compression therapies.
A THANK YOU MESSAGE FOR ATHLETIC TRAINERS
---
Maurice Jones-Drew, former NFL all-pro running back and now founder of Power Endurance Training Center, thanks athletic trainers for working tirelessly to protect the health and safety of all patients, and Game Ready for the recovery technology he says helped him stay in the game.
FULL-SERVICE RENTAL PROGRAM
---
Game Ready's full-service rental program takes the hassle out of home recovery. Easy for prescribing physicians and easy for patients coming back from an injury or surgery, the program takes care of paperwork, insurance billing, product usage education, and shipping.
RENT NOW
DUAL-ACTION, CIRCUMFERENTIAL WRAPS
---
Game Ready's dual-action, easy-to-use wraps enable integrated, no-mess therapy. Anatomic design and circumferential coverage assure better fit, greater comfort, and more effective treatment. All wraps are compatible with the GRPro 2.1 system and the majority of the line is compatible with the Med4 Elite system.
LEARN MORE
"GAME READY PROVIDES A SIGNIFICANT DECREASE IN THE NEED FOR PAIN MEDICATION AND AT LEAST A 20% FASTER RECOVERY."*
Peter Millett, MD, MSC | The Steadman Clinic
*Based on professional experience, not a manufacturer's claim, results may vary.
Rent the Game Ready System that will help you get back to what matters as quickly as possible.
RENT
PHYSICAL THERAPISTS /

ATHLETIC TRAINERS
---
Find out how special financing can help you purchase Game Ready for your practice, facility, or team.
PURCHASE
Learn how to prescribe Game Ready to your patients and extend your care beyond surgery.
PRESCRIBE